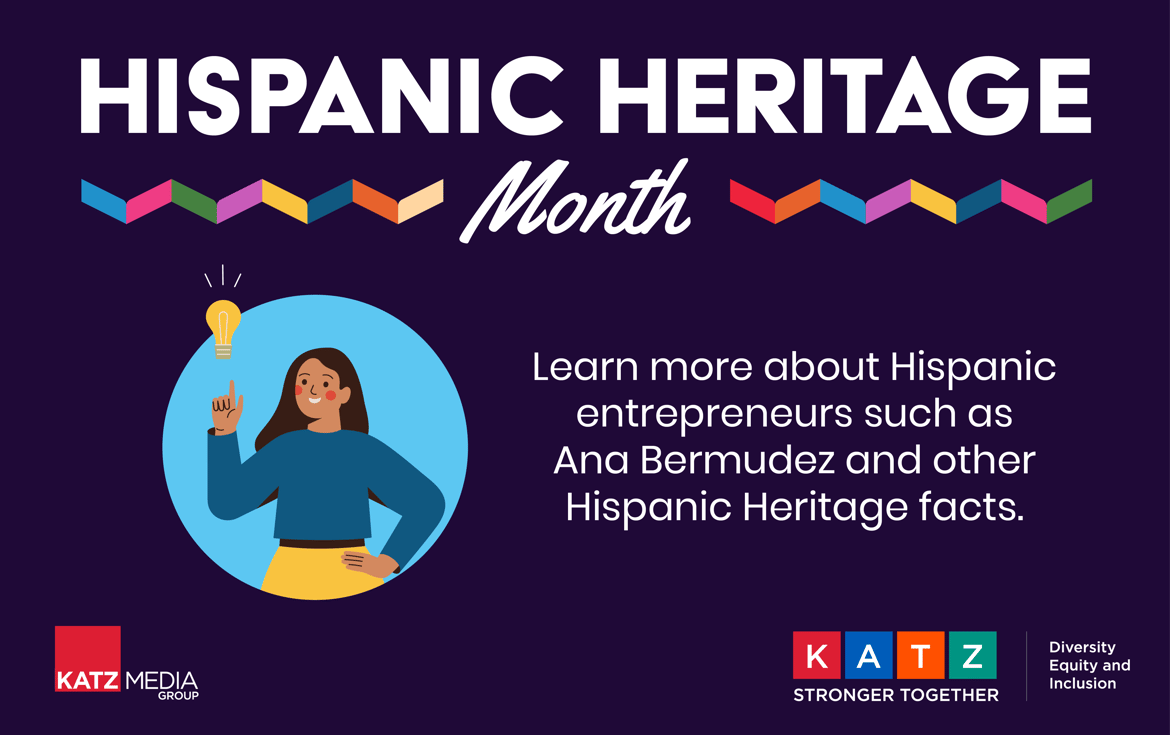 DID YOU KNOW?
Thanks to the Multicultural team at Katz, we can help our agencies and advertisers understand the value of the Hispanic consumer in the U.S. Based on the 2018 Annual Business Survey, there are over 332,000 Hispanic owned businesses, 42% of these businesses are in the professional services. Hispanics currently represent 18% of the total 12+ US population. Hispanics are the growth engine, fueling the US economy with the fastest growing income, Hispanics are 11 years younger than non-Hispanics putting them in the best aspirational stage for a variety of products and services.
ENTREPRENEUR
Ana Bermudez, founder of TAGit, the mobile app that TV viewers use to buy items from their favorite TV shows. A graduate of the Mendoza College of Business at the University of Notre Dame, Ana holds a degree in Finance. She is a tech entrepreneur who has won various competitions including the Hera Labs Fast Pitch and Tech Coast Angels. She has been a Fellow in the Stanford Latino Entrepreneurship Initiative Competition. Ana's mantra is "patience, persistence and preparation." She is an advocate for the advancement of women of color in business and promotes STEM and higher education in underserved communities.
TRAILBLAZER
Dolores Huerta is an American labor leader and Civil Rights activist. Dolores, along with Cesar Chavez is a co-founder of the National Farmworkers Association. Born in Dawson, New Mexico, discrimination fueled her passion for activism. She began her career as an activist leading voter registration drives and economic improvements for Hispanics. Dolores Huerta received the Eleanor Roosevelt Human Rights Award and the Presidential Media of Freedom. Today, she continues developing leaders and advocating for the poor. As founder of the Dolores Huerta Foundation, she engages campaigns and influencing legislation that supports equality and defends civil rights.
TODAY'S LEADER
Adriana Cisneros is CEO of Grupo Cisneros. Grupo Cisneros is a digital media, property investment, consumer product and property investment company that reaches more than 500 million Portuguese and Spanish speaking consumers in America and Europe. Adriana holds a BA from Columbia University and master's in journalism from NYU. She is a board member of the Cisneros Institute at MoMA, a director, and Trustee of the Paley Center for Media as well as a Board Member of Mattel, the Knight Foundation, and the University of Miami. Adriana is President of Fundación Cisneros, a not-for-profit dedicated to improving education in Latin America.