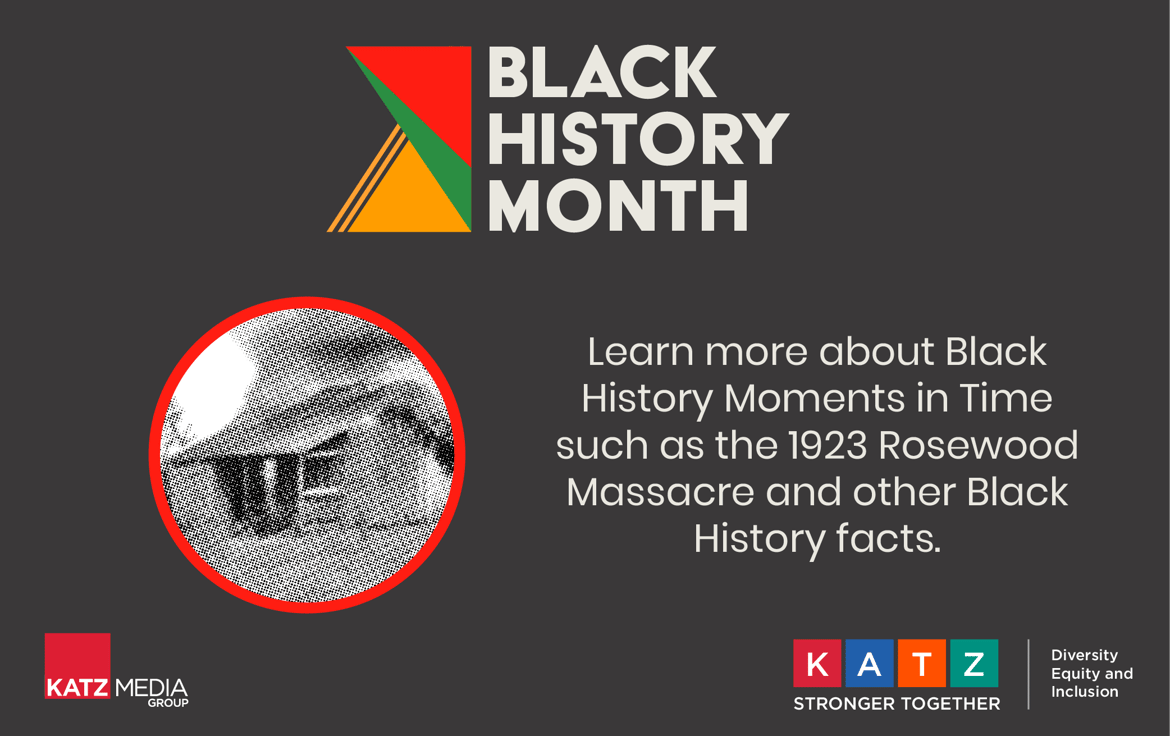 MOMENT IN TIME
In the first week of January 1923, Rosewood, Florida, a predominantly Black town of about 200 people was destroyed by an angry white mob, and residents who weren't killed were driven out by a white woman who falsely claimed she had been attacked by a Black man. Originally settled in 1845 by both Black and white people, black codes and Jim Crow laws after the Civil War fostered segregation. Rosewood, Florida was declared a Florida Heritage Landmark in 2004. Rosewood descendants formed the Rosewood Heritage Foundation and Real Rosewood Foundation to educate people about the massacre.
TRAILBLAZER
John H. Johnson was born in Arkansas in 1918 and graduated from Northwestern University. He was the founder of Johnson Publishing and creator of Ebony and Jet magazines. The articles in Ebony, featured photo essays about current events, race relations and emphasized the achievements of successful African Americans. One of the most memorable and culturally transformative moments was the decision by Jet to publish the photo of Emmett Till's mutilated body - an image that continues to provoke, outrage, and educate. John H Johnson, the grandson of slaves, became the first African American to appear on the Forbes List of the 400 Richest Americans.
DID YOU KNOW?
John H. Johnson and his wife, Eunice Walker Johnson, also founded the first national makeup brand that catered to women of color. Did you know that the Johnsons also provided a platform for Black models and fashion designers? Fashion Fair cosmetics launched in 1973 to provide women with shades that matched their skin tone. Fashion Fair cosmetics was a part of the Ebony Fashion Fair traveling fashion shows. The fashion shows featured Black designers including Stephen Burrows and Willi Smith, along with Givenchy and Valentino. Event proceeds went to charities, with over $60 million dollars raised in 51 years.
FOR A CAUSE
In 1963, a group of African Americans in New York City who wanted to improve their communities formed 100 Black Men of America, which is now one of the country's largest mentorship programs. Today, 100 Black Men of America boasts a membership of 10,000 members reaching over 125,000 youths. The National Coalition of 100 Black Women launched in 1981, with representatives from 14 states and the District of Columbia. Its mission is to advocate on behalf of women of color through national and local actions, promoting leadership development and gender equality in health, education, and economic empowerment.
THE NEXT GENERATION
Marley Dias was 15 years old when she launched #1000BlackGirlBooks in November 2015, an international movement to collect and donate children's books that feature Black girls as the lead characters. The campaign collected more than six thousand books within a few months and called public attention to the lack of diversity in children's literature. Dias released a book, Marley Dias Gets it Done and So Can You! and also began hosting a Netflix show called "Bookmarks: Celebrating Black Voices." Dias serves as the host and executive producer, where books and conversations center on themes of identity, respect, justice, and action. Marley is currently a student at Harvard University.